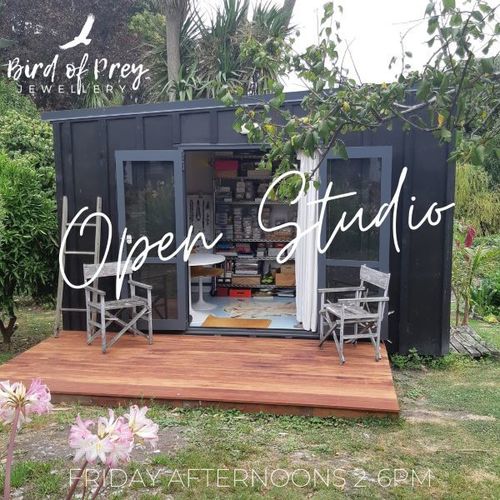 Bird of Prey Jewellery Studio Open Afternoon
Hurrah the Bird of Prey Jewellery studio's complete at last. I'm so excited to invite you to visit and discover what's on offer.
If you are looking for jewellery to buy in Gisborne, come and check out our Bestsellers and see what's NEW. Need something special to go with an outfit for a big event? Pop right on in, try some pieces on, I'm sure you'll find just the thing. And EFTPOS is available.
At the studio, I stock my bijoux collections of travel-inspired jewellery as seen on the website www.birdofprey.co.nz along with my handmade market stock, including one-of-a-kind and limited edition:
stud and statement earrings

single and expanding bracelets

chokers, necklaces and pendants

anklets

rings
I also offer a jewellery repair service so you can drop off anything you need fixing or altered during these open hours. It's usually best to see you in person as I may need to take measurements, then I can give you the best service.
People tell me they love the studio and ask where did I get it. Well after waiting patiently (for months and months) for builders in Gisborne to come back to me with quotes, to no avail, we stumbled across some timber pods under construction in Napier.
Upon investigation, we discovered we could have one custom built within the month and transported to the site. Too easy. Luckily we were away the day it was craned onto the site as I'm sure it was rather hair-raising with trees and buildings to avoid narrowly.
I set to shortly after, liming the interior ply and staining the exterior board and batten - quite a bit of which ended up splashed to kingdom-come but there was enough to finish!
My partner just finished the fabulous timber deck, prompting customers to suggest a weekly open afternoon, ideal for the quieter months when there are no markets to attend.
Where to find the Studio?
You will find us at 12 Wilson Street, Gisborne. Here's a map. Just look out for the blue letterbox and a hedge on the right, and you'll see an arrow pointing the way to my garden studio where all the magic happens.
If you've seen some jewellery, you liked the look of online, come and take a closer look on Friday afternoons between 2 and 6. Time it right, and you may find me finishing the week with a glass of wine, and one to share.
Out of town but interested? Do join our mailing list at The Bird-Club for special jewellery offers, updates and your complimentary Personal Jewellery Style Guide.
I'm happy to answer questions about the studio building. Leave a comment below if you do. Hope to see you Friday.
Posted: Tuesday 18 February 2020